A little preemptive work can save you time and effort in the long run, especially when it comes to your home. Take charge of your winter chores in autumn and you'll be sitting pretty when the temperatures drop and the snow flies. You can bask in the glow of the hard work you did on your winterized home.

Groom Your Garden

Clean up your finished annual plantings and bury the plants to create organic matter—your soil will love it.
Prune your perennials for a tidy look now and a happy season come Spring.
Cover garden beds with fresh mulch to ease the transition to winter and protect against hard frosts.
Store ceramic pots, so they don't crack when it freezes.
Enjoy botanical beauty all year long by potting winter-friendly plants in winter-friendly planters (your plants should be hardy to two zones colder than your USDA Hardiness Zone—type in your zip code at planthardiness.ars.usda.gov for info on your zone).

Outdoor Furniture Maintainance

Outdoor life brings dirt, insects, and more, so a periodic cleaning of your furniture is imperative to maintain—or exceed—its lifespan.
Before storing, give your patio furniture a good once-over, so each piece is ready for its unveiling come springtime.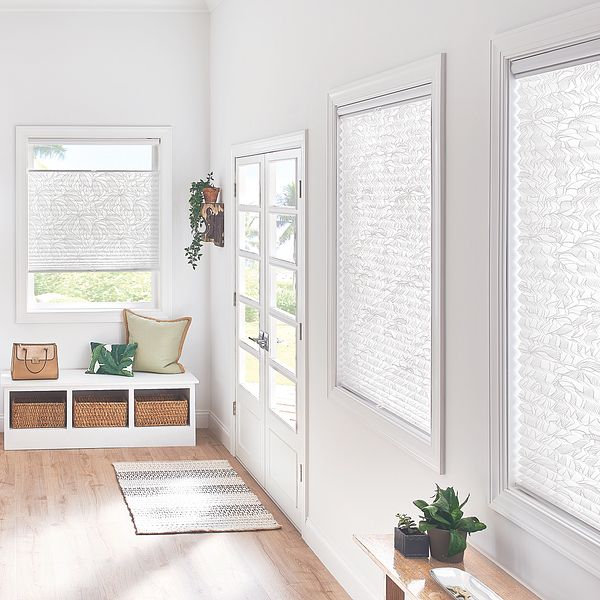 Pleated Shades with Cordless Lift: Tropical White
Entry Way Refresh
Prepare for winter weather by adding appropriate indoor mats at each door—for a no-slip, no-trip entrance to your home.
Salt and snow! Your boots and shoes bring the outdoors in. Keep the elements contained with shoe storage—a boot tray keeps the mess of snow, wet leaves, and mud off your flooring.
Update Home Decor
Add fall-inspired throw pillows—plaid, anyone?
Grab those warm and cozy blankets from storage. Consider adding a chunky, oversized knit one or a teddy bear throw—super soft and touchable.
Attain your supply of autumnal candle scents—vanilla pumpkin, if you're so inclined. Or try birch & amber for a fresh take on fall. Take it next level and find your signature scent for every season!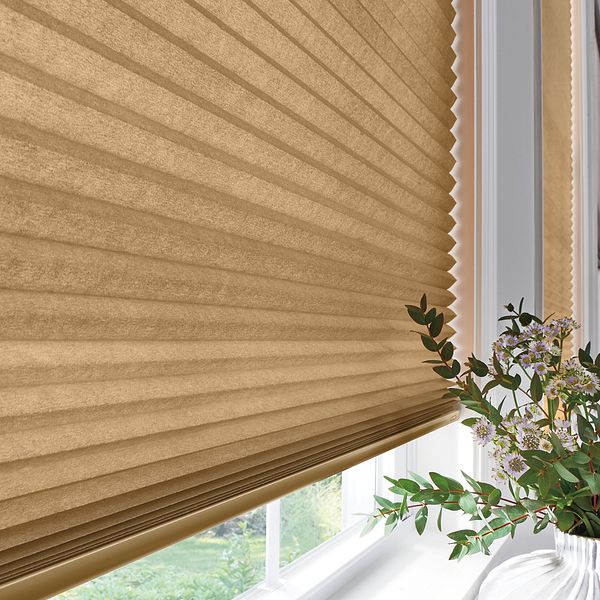 Cellular Shades with Motorized Lift: Golden Wheat
Prep Your Windows
Remove your window screens and wash them before storing.
Replace screens with storms.
Give your storms a shine up and start the season with a clear view.
Consider updating window treatments to those that insulate, including cellular shades or drapery—or both—for ongoing energy savings.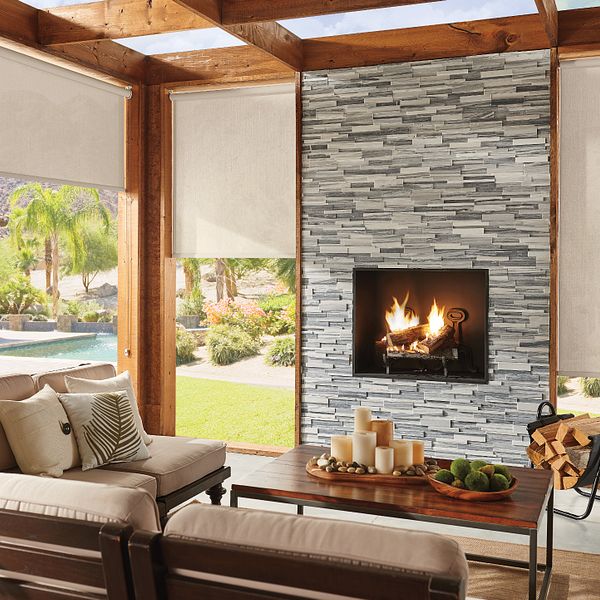 Exterior Solar Shades: Plexus 3%, Landmark
Fireplace Upkeep
Have your fireplace serviced by a professional—maintenance is essential for both wood-burning and gas fireplaces.
If you burn wood, secure your supply now, before the demand rises.
If the glass on your gas fireplace looks foggy, give it a cleaning and increase the heat that emanates into the room.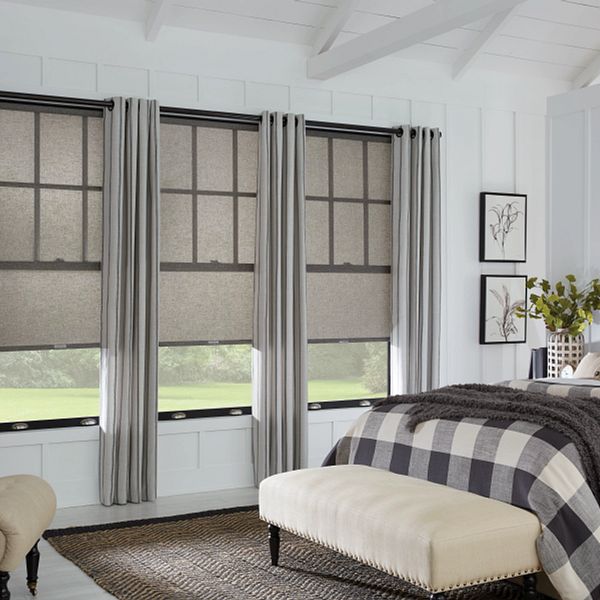 Roller Shades with Cordless Lift: Haberdasher Gray; Drapery: Iconic, Natural
Bedroom Redress
Update your bedding to more seasonal colors and patterns.
Add a blanket or switch to a warmer comforter, if needed.
Don't forget to evaluate your guest room, and give it a seasonal zhuzh as well.
Plan for the early sunrise of spring and summer by installing blackout shades now. Since a darkened room is best for rest, a blackout opacity promotes better sleep—just what you need to find your serenity.