Graber Lightweaves® Solar Shades
Graber Solar Shades diffuse light, minimize glare, and still allow a view through the fabric. They also protect furnishings from UV rays and reduce the sun's heat, which can lower cooling costs. Our trend advisors approve every fabric, so you're assured an enduring look. And our new Eco-Performance Solar Shades feature better fabrics for a better world, with textiles that are earth-friendly, family-friendly, and always oh-so-stylish.
Graber Eco-Performance Solar Shades
From fabrics that improve indoor air quality to textiles created with plastic bottles from the ocean, Graber Eco-Performance solar fabrics make a difference in the world. And, because our trend advisors curate our collections, they'll make a fashionable difference in your home, too.
Pair Your Solar Shades with Other Graber Window Treatments
Opting for roller or solar shades in a room with wide windows? Coordinate with Graber Sliding Panels for a complete look that pleases and protects.
Install Graber Exterior Solar Shades outside your home's windows to block sun before the rays hit the glass, keeping your home cool and shaded. Or mount them around your outdoor living space and enjoy your patio all through the day.
Solar Shade Product Options
Control Types
Convenient, safe control with the touch of a button; great for large or hard-to-reach shades
Cordless Lift
Classic cordless system uses the hem bar to raise and lower the shade
Continuous-Loop Lift
Traditional lift option uses a looped cord to raise and lower your shades
Smart Pull Lift
Conveniently lower shades with a single pull using the easy glide lift system
Fabric Openness
Fabrics with a lower openness percentage block more UV rays. Fabrics with a higher percentage have a better view to the outside. For nighttime privacy, layer with drapery or pair with a roller shade in a Graber Dual Shade solution.
1% Openness
Offers greatest light filtering, most efficient at blocking damaging UV rays
3% Openness
Protects decor at risk from damaging UV rays
5% Openness
Blocks 95% of harmful UV rays and reduces screen glare
10% Openness
Maximizes your view to the outdoors, letting in some sunlight while still blocking glare
Finishing Touches
Blackout Channels
Discreet channels line the sides and bottom of the window to block light from entering around the edges of the shade
Heat-Sealed Hem Bar
Hem bar is completely enclosed within a heat-sealed pocket for a clean, smooth look with no exposed parts
Fabric-Wrapped Hem Bar
Fabric from the shade is wrapped around an aluminum hem bar; comes with color-coordinated end caps
Cassette Valance
Sleek, fabric-covered valance conceals the fabric roll at the top of the shade
Contour Valance
A rounded, contemporary fabric-wrapped valance
Fascia Valance
A flat, streamlined aluminum valance
Try Treatments on Your Own Window—Virtually
Simply upload a photo of your window and start designing—or choose from our portfolio of sample room scenes. Then preview your picture-perfect treatments.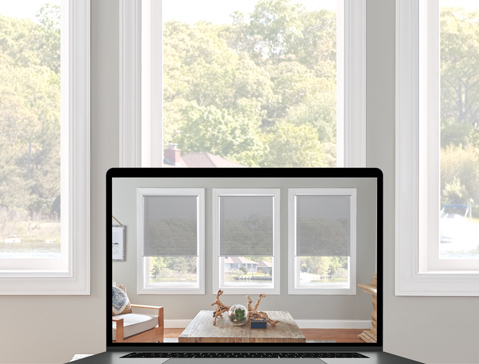 Let Us Help You Choose the Perfect Window Treatment for Your Home
Simply fill out this form. A local Graber Window Treatment Expert will contact you to learn about your project and help you find a solution that delights you.
Prefer to find an expert yourself? Click here to search for dealers in your area.
Limited Lifetime Warranty
The Graber Limited Lifetime Warranty extends from installation throughout the life of your window treatment.
Click here for warranty details
Certified Best for Kids™
An independent laboratory has tested and certified that this product has options without operating cords or where inner cords are inaccessible and won't form a loop based on industry safety standards.
Inspected for Quality
Before shipping, each shade is hung, adjusted, and thoroughly inspected for straightness. A Best Experience Pride certificate is included with every order—signed by the Graber craftsman.
GREENGUARD GOLD & OEKO-TEX® Standard 100 Certified Fabrics
For improved indoor air quality, we make Graber Shades with material certified as low in chemical and particle emissions.