Graber Traditions Composite Shutters let you experience the essence of real wood in rooms that require a durable or cost-effective solution. Engineered to withstand high humidity, Graber Composite Shutters coordinate with Graber Composite Blinds and are ideal for kitchens, laundry rooms, bathrooms, and other high-humidity rooms.
Engineered to Perform
Rigid, composite construction resists flexing from season to season

Color palette overlaps with Graber Composite Blinds for whole-home coordination

Impervious to moisture, meaning you can install in any indoor environment

Designed for durability, composite shutters are ideal for high-traffic areas

Composite shutter panels now come as wide as 36", offering a better solution for larger windows and allowing for a clearer view to the outside
Composite Shutter Product Options
Styles
Choose from a range of shutter styles, easily customizable based on your privacy needs and size of your windows or doors.
Standard Panel
Rectangular-shaped panel covering the entire window and can be installed using any frame style
Café
This classic style covers the bottom part of the window, allowing light to enter above while maintaining privacy
Bypass Track System
Ideal for patio or closet doors, panels slide on a double track that can be attached to a frame or mounted directly to a window casing
Double-Hung Shutters
Top and bottom panels hang in the same window but operate separately, allowing the top to be opened for daylight while the bottom is closed for privacy
Arch or Angle Top Panels
Whole window solutions that perfectly fit the rounded shape of full arch windows or angles of slanted windows
French Doors
Mounted to French doors, curved or rectangular cutout options can accommodate door knobs or handles
Sunburst Arches
Sunburst patterned louvers cover unique window silhouettes such as eyebrow, elongated, and elliptical arches
Louver Sizes
With three sizes to choose from, window size along with the outside views will help you decide which louver width is the best choice for your shutters.
2½" Louver
Traditional style for smaller window and café height applications
3½" Louver
Most popular louver size provides versatile visibility and light control options
4½" Louver
With wide louvers, this option provides great visibility to the outside and is perfect for larger windows.
Try Treatments on Your Own Window—Virtually
Simply upload a photo of your window and start designing—or choose from our portfolio of sample room scenes. Then preview your picture-perfect treatments.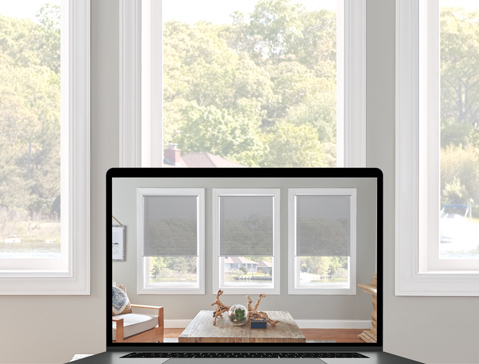 Let Us Help You Choose the Perfect Window Treatment for Your Home
Simply fill out this form. A local Graber Window Treatment Expert will contact you to learn about your project and help you find a solution that delights you.
Prefer to find an expert yourself? Click here to search for dealers in your area.
Limited Lifetime Warranty
The Graber Limited Lifetime Warranty extends from installation throughout the life of your window treatment.
Click here for warranty details
Certified Best for Kids™
An independent laboratory has tested and certified that this product has options without operating cords or where inner cords are inaccessible and won't form a loop based on industry safety standards.
Stress-Tested in Extreme Environments
From testing adhesive strength in high heat to UV testing painted components, we ensure finished window treatments perform consistently for years to come
Fire Resistance Rated
Composite shutters are FR rated and meet California Fire Marshal Title 19: Section 1237 Fire Resistance